Present Your Case, Says The Lord, Set Forth Your Arguments, Says The King of Jacob - Isaiah 41:21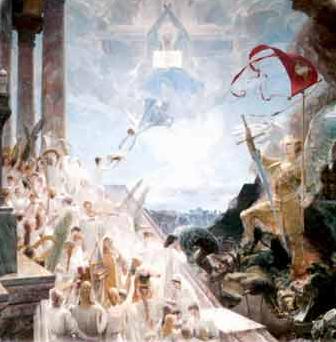 Because I Have Sinned Against Him, I Will Bear The Lord's Wrath, Until He Pleads My Case and Establishes My Right. He Will Bring Me Out Into The Light, I Will See His Righteousness - Micah 7:9
"I, even I, am He who blots out your transgressions for MY NAME SAKE: And I will not remember your sins. Put Me in remembrance; let us contend together; state your case, that you may be acquitted." Isaiah 43:25
Oh Lord, You Took Up My Case; You Redeemed My Life - Lamentations 3:58
Certainly our relationship with the Lord is more than a legal arrangement and He has called us sons and daughters of the most High God, those that have believed Him and trusted Him as Lord. However He asks us to bring our case to show that He is a righteous God and can be trusted in the "all things" that we ask Him.....
An Example of Pleading Prayer That Changed The Mind of God
Then Moses pleaded with the Lord his God, and said: "Lord, why does Your wrath burn hot against Your people whom You have brought out of the land of Egypt with great power and with a mighty hand? Why should the Egyptians speak, and say, 'He brought them out to harm them, to kill them in the mountains, and to consume them from the face of the earth?'

Turn from Your fierce wrath, and relent from this harm to Your people. Remember Abraham, Isaac, and Israel, Your servants, to whom You swore by Your own self, and said to them, 'I will multiply your descendants as the stars of heaven; and all this land that I have spoken of I give to your descendants, and they shall inherit it forever.' So the Lord relented from the harm which He said He would do to His people. (Exodus 32:11-14)


Removing What Hinders Prayers
If any of you lacks wisdom, he should ask God, who gives generously to all without finding fault, and it will be given to him. But when he asks, he must believe and not doubt, because he who doubts is like a wave of the sea, blown and tossed by the wind. That man should not think he will receive anything from the Lord; he is a double-minded man, unstable in all he does - James 1:5-8 - The petitioner must ask wisely and believe that God will answer him. For without faith it is impossible to please God - Hebrews 11:6
If I had cherished sin in my heart, the Lord would not have listened; but God has surely listened and heard my voice in prayer. Praise be to God, who has not rejected my prayer
or withheld His love from me! - Psalms 66:18-20 - The petitioner must not regard sin in his heart, and be dead to it - In the same way, count yourselves dead to sin but alive to God in Christ Jesus for you have been set free from sin and by FAITH have become slaves to righteousness - Roman 6: 11, 18. The Pure Heart is evidence of a repentant heart that has turned from its own way "by FAITH" to follow God......
Therefore I tell you, "whatever things" you ask for in prayer, believe that you have received them, and they will be yours. And when you stand praying, if you hold anything against anyone, forgive him, so that your Father in heaven may forgive you your sins - Mark 11:24-25 - This means to hold no unforgiveness in your heart when asking - For he who asks for mercy must know he must be merciful for mercy to triumph over judgement - James 2:18, Answers to prayers are tender mercies from heaven meant also to bring tender mercies to others........
James tells us that God is opposed to the proud but gives grace to the humble. God requires His children of FAITH to walk humbly with Him. The humility of a person is what God finds acceptable. It was the attribute and characteristic of Jesus as a humble servant that came to serve and not to be served. He humbled Himself as a man to die on the cross for the sins of all mankind. Humility is required to have your prayer answered.....
Husbands, in the same way be considerate as you live with your wives, and treat them with respect as the weaker partner and as heirs with you of the gracious gift of life, so that nothing will hinder your prayers - 1 Peter 3:7 - This is directed to husbands but is also meant for every Believer to treat weaker individuals with respect. Treating others with respect will not hinder your prayer. This the love for your neighbor that will do no wrong to him......
If any of these things are obstacles that appear to be mountains, you may say by FAITH to the obstacle/mountain to be removed, if you have the FAITH of a mustard seed - Matthew 17:20 - Jesus replied, "Because you have so little FAITH, you do not believe when you ask, your prayers are not answered, But I tell you the truth, if you have FAITH as small as a mustard seed, you can say to this mountain, 'Be Removed' and it will be Removed. Nothing will be impossible for you! - Of course this is meant in God's will......
| | | |
| --- | --- | --- |
| 4485 Lawrenceville Highway Lilburn, Ga 30047 | | Fax 866-212-8986 email: prayer@jehova.net |